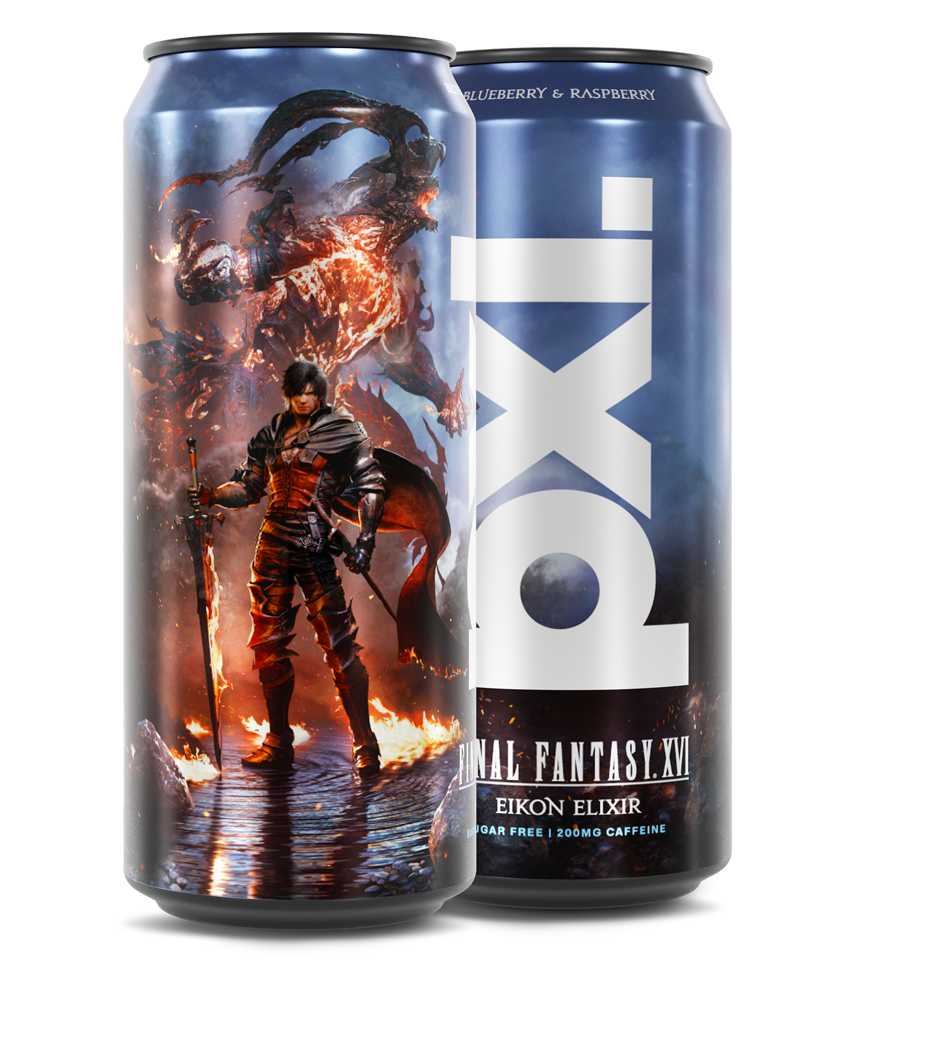 Introducing PXLs Eikon Elixir - the ultimate energy drink for gamers and fans of Final Fantasy XVI! We are thrilled to announce our team up with Square Enix in celebration of their upcoming release. Our exclusive can design features Clive, the heroic protagonist, and Ifrit, the mighty Eikon that plays a pivotal role in the game's story.

At PXL, we understand the importance of staying energized during intense gaming sessions, and Eikon Elixir is the perfect solution. Our carefully crafted formula provides a boost of energy and focus to help you keep up with Clive and the other warriors of Final Fantasy XVI as they battle to protect their realm from the corrupt forces that threaten to destroy it.

We are incredibly proud to have been chosen as the official energy drink partner for this epic release, and we can't wait for fans to try Eikon Elixir for themselves. And for those who haven't had a chance to play the game yet, we've got you covered – just scan the QR code on the can to download the demo and experience the action firsthand.

Get ready to fuel your adventures with PXLs Eikon Elixir, the ultimate energy drink for Final Fantasy fans.

© 2023 SQUARE ENIX CO., LTD. All Rights Reserved.
FINAL FANTASY, SQUARE ENIX and their respective logos are trademarks or registered trademarks of Square Enix Holdings Co., Ltd
About us
We at PXL proudly describe ourselves as nerds. We find the term endearing and we wear it with pride. Nerds, if you ask us, dive into the deepest of depths in search of challenges. They are fueled by their thirst to learn and master, to improve and evolve. Comic books, D20 dice or the latest and/or greatest of video games doesn't matter - if the journey is fun and the fuel is curiousness; no destination is too far.
When we make decisions at PXL we always try to put fun first. It has to have that little "what if" feeling behind it. "What if"- we tried this or "What if"- we don't do it like everyone else does? Does it have to revolve around maximum return of investment or can we just make every decision based on "Is this fun?" We think so and we can't wait to show you.
What's inside?
There are so many things we could add into a can of PXL and by some stretch of our imagination claim that you might perhaps have a tiny sliver of a snowballs chance in hell to experience slightly better reflexes while playing your favorite fighting game. We don't like pretending our product would increase your K/D ratio because nothing out there will and our mission is to be up front and honest about what we do and what PXL is.
PXL is a carbonated energy drink with a high quality 200mg dose of caffeine. The aromas come from top of the line producers that create fully developed flavors without the bitter buildup that lower quality aromas suffer from. We want the first sip to welcome you aboard and the last one to leave you with blissful memories. We are always gonna work our asses off to produce the best tasting energy drink on the market and if there is ever a drink out there you enjoy more than ours - consider our quest-log updated because we love a challenge!
Where to find us
If you are a consumer our plan is to be on every single shelf in the country. With clear solid and bright colors we will catch your eye first and your loyalty second. The question should never be "Where can I buy a PXL" but instead "What flavor of PXL do I want today?" If you're a supplier we would love to hear from you! From our warehouse in Ängelholm or our office in Linköping we are ready to help you give PXL a chance in your store! Send us an e-mail or give us a call and we will take care of everything else. The relationship with our suppliers is something that we honor above all else. You should always feel taken care of and listened to. Get in touch using the form below.
info@pxlenergy.se
010-214 78 50
Tornbyvägen 1A, Linköping